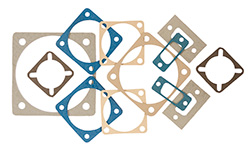 D-subminiature is a electrical connector that contains two or more parallel rows of pins or sockets usually surrounded by a D-shaped metal shield that provides mechanical support, ensures correct orientation, and may screen against electromagnetic interference. The section containing pin contacts is commonly called the plug, while that containing socket contacts is called the or socket. The socket's shield fits tightly inside the plug's shield. D-subs mounted connectors usually have threaded nuts that accept screws on the cable end connector cover that are used for locking the connectors together and offering mechanical strain relief.
Please view Table #1 for available part numbers to purchase.
[themify_box style="gray"] Figure #1  Design Data  [/themify_box]
Dimensional Characteristics
EMI/RFI Shielding Connector Gasket – This figure shows an outline drawing of the typical connector gasket.

Connector gasket thickness for all parts listed is .032″
[themify_box style="gray"]Table #1 Products – click on links below to navigate to the purchase page [/themify_box]
Please click on the data sheet links below to find out more information about our Military and Commercial grade materials.
(-52) Commercial Grade Ni/Graphite               (-63) Military Grade Ag/Al                       
For this series our -63 Military Grade material meets MIL-DTL-83528 type B. -52 Commercial Grade is available but is NOT a MIL-DTL-83528 qualified material