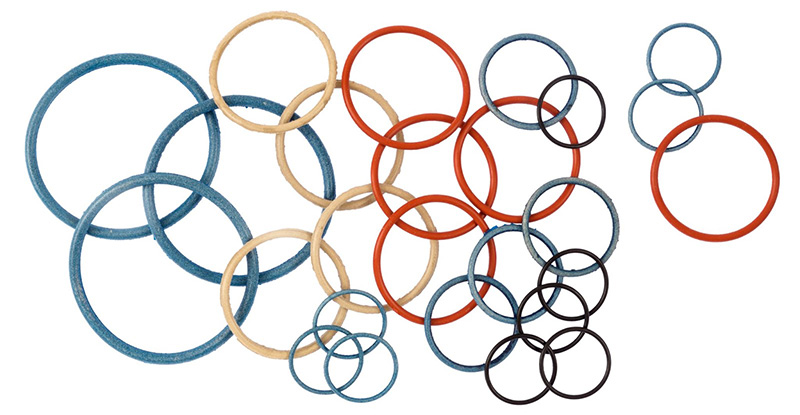 O-Rings Available from MAJR Products
MAJR's round profile EMI / RFI shielding O-rings come in two material types: B - Silver Aluminum Silicone and D - Silver Aluminum Fluorosilicone.
Benefits of MAJR Products' Shielded Gaskets
MAJR Products offers a variety of EMI gaskets and tapes, including EMI shielding tape, EMI knitted wire mesh gaskets, strip gaskets, Multicon gaskets, cut, and O-ring gaskets in many materials and configurations. Each offers unique solutions for the attenuation of electromagnetic interference and radio frequency waves.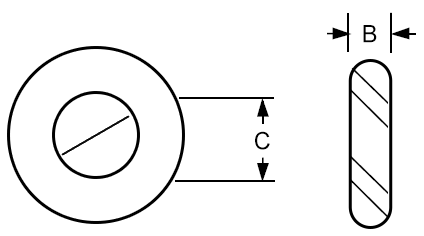 Table 1 for 002 sized O-Rings
Dimensions
Part Numbers
B
C
Material Type/Size Designation
Mil Number
0.070
0.145
B [007]
M83528/002B007
0.070
0.301
B [011]
M83528/002B011
0.070
0.364
B [012]
M83528/002B012
0.070
0.426
B [013]
M83528/002B013
0.070
0.489
B [014]
M83528/002B014
0.070
0.551
B [015]
M83528/002B015
0.070
0.676
B [017]
M83528/002B017
0.070
0.739
B [018]
M83528/002B018
0.070
0.801
B [019]
M83528/002B019
0.070
0.864
B [020]
M83528/002B020
0.070
0.926
B [021]
M83528/002B021
0.070
0.989
B [022]
M83528/002B022
0.070
1.114
B [024]
M83528/002B024
0.070
1.239
B [026]
M83528/002B026
0.070
1.364
B [028]
M83528/002B028
0.103
0.612
B [114]
M83528/002B114
0.103
0.676
B [115]
M83528/002B115
0.103
0.799
B [117]
M83528/002B117
0.103
1.362
B [126]
M83528/002B126
0.103
1.487
B [128]
M83528/002B128
0.103
1.737
B [132]
M83528/002B132
0.103
1.862
B [134]
M83528/002B134
0.103
2.362
B [142]
M83528/002B142
0.103
2.550
B [145]
M83528/002B145
0.103
3.987
B [155]
M83528/002B155
0.070
0.145
D [007]
M83528/002D007
0.070
0.301
D [011]
M83528/002D011
0.070
0.364
D [012]
M83528/002D012
0.070
0.426
D [013]
M83528/002D013
0.070
0.489
D [014]
M83528/002D014
0.070
0.551
D [015]
M83528/002D015
0.070
0.676
D [017]
M83528/002D017
0.070
0.739
D [018]
M83528/002D018
0.070
0.801
D [019]
M83528/002D019
0.070
0.864
D [020]
M83528/002D020
0.070
0.926
D [021]
M83528/002D021
0.070
0.989
D [022]
M83528/002D022
0.070
1.114
D [024]
M83528/002D024
0.070
1.239
D [026]
M83528/002D026
0.070
1.364
D [028]
M83528/002D028
0.130
0.612
D [114]
M83528/002D114
0.130
0.676
D [115]
M83528/002D115
0.130
0.799
D [117]
M83528/002D117
0.130
1.362
D [126]
M83528/002D126
0.130
1.487
D [128]
M83528/002D128
0.130
1.737
D [132]
M83528/002D132
0.130
1.862
D [134]
M83528/002D134
0.130
2.362
D [142]
M83528/002D142
0.130
2.550
D [145]
M83528/002D145
0.130
3.987
D [155]
M83528/002D155
Table 2 for 005 sized O-Rings
Dimensions
Part Numbers
B
C
Material Type/Size Designation
Mil Number
0.030
0.442
B [001]
M83528/005B001
0.030
0.557
B [002]
M83528/005B002
0.030
0.692
B [003]
M83528/005B003
0.030
0.817
B [004]
M83528/005B013
0.039
0.425
B [005]
M83528/005B014
0.048
0.295
B [006]
M83528/005B015
0.050
0.533
B [007]
M83528/005B017
0.051
0.446
B [008]
M83528/005B018
0.057
0.415
B [009]
M83528/005B019
0.063
0.541
B [010]
M83528/005B020
0.063
0.648
B [011]
M83528/005B021
0.068
0.847
B [012]
M83528/005B022
0.068
1.182
B [013]
M83528/005B024
0.068
3.165
B [014]
M83528/005B026
0.070
0.495
B [015]
M83528/005B028
0.070
0.610
B [016]
M83528/005B114
0.070
0.635
B [017]
M83528/005B115
0.070
0.667
B [018]
M83528/005B117
0.070
0.860
B [019]
M83528/005B126
0.070
1.230
B [020]
M83528/005B128
0.130
1.040
B [021]
M83528/005B132
0.130
1.612
B [022]
M83528/005B134
0.130
1.790
B [023]
M83528/005B142
0.030
0.442
D [001]
M83528/005D001
0.030
0.557
D [002]
M83528/005D002
0.030
0.692
D [003]
M83528/005D003
0.030
0.817
D [004]
M83528/005D004
0.039
0.425
D [005]
M83528/005D005
0.048
0.295
D [006]
M83528/005D006
0.050
0.533
D [007]
M83528/005D007
0.051
0.446
D [008]
M83528/005D008
0.057
0.415
D [009]
M83528/005D009
0.063
0.541
D [010]
M83528/005D010
0.063
0.648
D [011]
M83528/005D011
0.068
0.847
D [012]
M83528/005D012
0.068
1.182
D [013]
M83528/005D013
0.068
3.165
D [014]
M83528/005D014
0.070
0.495
D [015]
M83528/005D015
0.070
0.610
D [016]
M83528/005D016
0.070
0.635
D [017]
M83528/005D017
0.070
0.667
D [018]
M83528/005D018
0.070
0.860
D [019]
M83528/005D019
0.070
1.230
D [020]
M83528/005D020
0.130
1.040
D [021]
M83528/005D021
0.130
1.612
D [022]
M83528/005D022
0.130
1.790
D [023]
M83528/005D023
Request a Quote for

O-Rings